Model-actress Lisa Haydon recently gave birth to her third child– a baby girl.
Now, Lisa is celebrating World Breastfeeding Week but more importantly, she's revealed her baby girl's name!
When it comes to the big reveals, Lisa gets super creative. First, the actress disclosed her baby girl's birth by replying to a fan's comment on her Instagram post.
"Hey, can you tell me please where is your 3 tiny baby?" the fan had commented. Haydon replied, "In my arms." And that was it! The internet went ga-ga!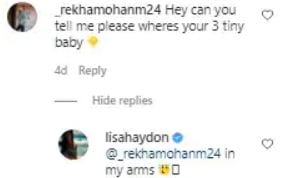 A few hours ago, Lisa took to Instagram and in honour of World Breastfeeding Week, the actress not only revealed her daughter's beautiful name but also added a fun little caption to her post.
Lisa captions the image where she's captured breastfeeding baby Lara, "Was it just world breastfeeding week? In honour of this special week, Lara would like to thank everyone that has given her a seat at the table."
Yes, Lisa has named her little one Lara, who was born after her two big brothers. Haydon married Dino Lalvani in 2016 and the couple welcomed their oldest son Zack in 2017 and their second son Leo in 2020.