A fascinating Russian F1 Grand Prix got even moreso hours before the start with a surprising move from Mercedes to try and stop Max Verstappen. Follow live below!
With Practice 3 rained out and qualifying heavily rain-affected, on a track Mercedes has never lost at, the Red Bull ace chose to cop some short-term pain for long-term gain and accept multiple new engine parts.
It means Verstappen started 20th at the back of the grid, along with Ferrari's Charles Leclerc (19th), Williams' Nicholas Latifi (18th) and Alfa Romeo's Antonio Giovinazzi (17th); but he was joined by Mercedes' Valtteri Bottas in 16th.
Stream Every Practice, Qualifier & Race of the 2021 FIA Formula One World Championship™ Live & On-Demand on Kayo. New to Kayo? Start Your Free Trial >
RACE CENTRE: Russian Grand Prix, timings, video
FORMULA 2: Aussie ace closes in on title, but F1 still ignoring him
Bottas' placement will make it even harder for Verstappen to fight through the field and score points – the Mercedes should be faster and there's a real chance Bottas ends up blocking the Dutchman for a long period – which the team needs after a disastrous qualifying for Lewis Hamilton (fourth).
RACE REPORT
McLaren was expecting light rain in the first 15 minutes of the race, but it failed to appear, with rain hanging over the nearby sea.
The top five runners began on medium tyres with Fernando Alonso (starting sixth) and Max Verstappen among those on the hards, with the title leader looking to go long.
Carlos Sainz took the lead in the first corner thanks to the huge run down the opening straight and the slipstream, with Norris, Russell and Stroll next.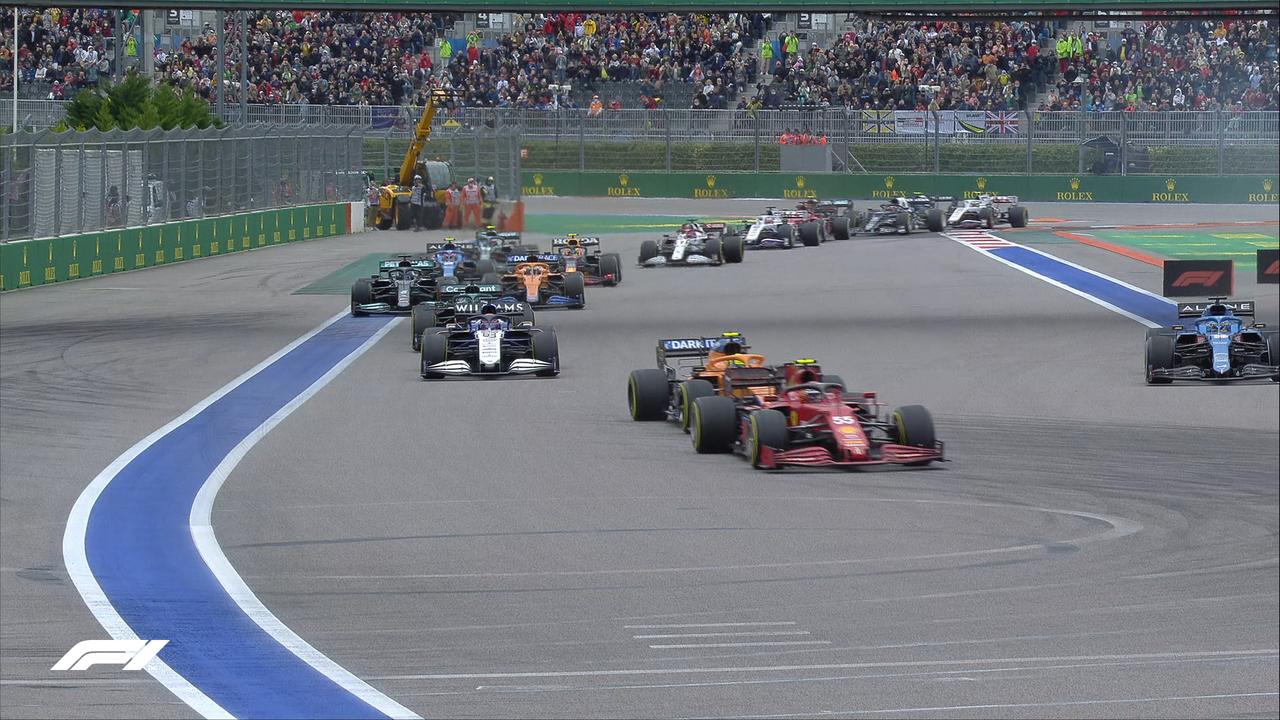 Ricciardo dropped back early from his starting position of fifth but soon overtook Hamilton and Alonso to regain it.
Verstappen was up into 17th by the end of lap one.
Ricciardo quickly came under pressure from Hamilton in the DRS zone down the main straight but thanks to Russell and Stroll being within range, the Aussie had DRS too.
On lap six, Sainz had a two-second lead over Norris, who had a six-second lead over third-placed Russell and a five-car DRS train, which Sergio Perez joined in seventh.
Verstappen overtook Valtteri Bottas on the back straight on lap seven, moving into 14th and beginning his push into the points. Bottas didn't put up much of a defence, failing to move and leaving commentator Paul di Resta shocked.
"You've got to make it difficult – think about the championship! That could be the argument for not getting a contract for next year," he said.
Verstappen overtook Leclerc for 12th on lap ten after nearly going down the inside on a fast corner, as Leclerc was trying to pass Seb Vettel, and being pushed into the wall.
At the front, Norris soon got within DRS range of Sainz and was getting almost alongside him into the first corner.
With Russell still holding up the train featuring Hamilton (sixth), the Mercedes driver was suddenly nine seconds back of the leader and just nine seconds ahead of Verstappen.
On lap 13, Stroll was the first driver to pit from fourth, onto the hards looking to undercut Russell and finding an 11-second gap of free air between 14th-placed Bottas and 15th-placed Mazepin.
Later that lap Norris re-took the race lead down the back straight, as Russell pitted but was passed by Stroll in the process. It left Ricciardo third and Hamilton fourth but if they were to pit, they would be behind the Williams and Aston Martin pair.
Stroll was soon lapping over a second faster than Norris, with the race seemingly splitting between one and two-stop strategies.
"I'm competely confused by what Mercedes have done with Hamilton. Why have they left him out there?" commentator Karun Chandhok asked as the seven-time champion ran behind second-placed Ricciardo.
Verstappen was soon running sixth (though he hadn't pitted yet) and on lap 17 set the fastest lap on his used hards, threatening to challenge for a podium after starting last. He was running over a second faster than Hamilton.
By lap 19 rain clouds were beginning to gather around the track and moisture was visible on the back wing of Ricciardo's car.
On lap 21 it looked as if the drivers who stopped early, moving onto a two-stop strategy, had made an error – Sainz, who was battling for the lead with Norris before pitting, was still a full pit stop behind the McLaren as he ran 11th.
Verstappen could soon see the DRS train led by Ricciardo and Hamilton.
Ricciardo pitted on lap 23 for hards and was disastrously slow, putting him in dirty air behind 13th-placed Ocon when he emerged from the pits.
RACE PREVIEW
Lando Norris celebrated his maiden F1 pole and gave his McLaren team their first since 2012 in a stunning outcome to Saturday's qualifying.
Norris is joined on the front row by the Ferrari of Carlos Sainz, his former teammate, with Hamilton starting on the second row in his latest attempt at reaching 100 wins.
Williams' George Russell starts third, making this the first time the first three starters on the grid have never won an F1 race since 1975.
Norris claims milestone pole! | 02:00
Hamilton was looking good for pole after topping the timesheets in Q1 and Q2, but he then suffered late drama with three minutes left of Q3 when he hit the pit wall requiring a hastily fitted new front wing to his damaged Mercedes.
A spin on his re-emergence out onto the circuit on slick tyres left the door open for 21-year-old Norris to steal the show at Sochi with a flying last lap of 1min 41.993sec.
Australia's Daniel Ricciardo qualified fifth after his win in Monza last time out.
Ricciardo and Norris on the same page | 01:16
FORMULA 1 RUSSIAN GRAND PRIX – Starting grid
Front row Lando Norris (GBR/McLaren-Mercedes) Carlos Sainz (ESP/Ferrari)
2nd row George Russell (GBR/Williams-Mercedes) Lewis Hamilton (GBR/Mercedes)
3rd row Daniel Ricciardo (AUS/McLaren-Mercedes) Fernando Alonso (ESP/Alpine-Renault)
4th row Lance Stroll (CAN/Aston Martin-Mercedes) Sergio Perez (MEX/Red Bull-Honda)
5th row Esteban Ocon (FRA/Alpine-Renault) Sebastian Vettel (GER/Aston Martin-Mercedes)
6th row Pierre Gasly (FRA/AlphaTauri-Honda) Yuki Tsunoda (JPN/AlphaTauri-Honda)
7th row Kimi Raikkonen (FIN/Alfa Romeo Racing-Ferrari) Mick Schumacher (GER/Haas-Ferrari)
8th row Nikita Mazepin (RUS/Haas-Ferrari) Antonio Giovinazzi (ITA/Alfa Romeo Racing-Ferrari)
9th row Valtteri Bottas (FIN/Mercedes) * Nicholas Latifi (CAN/Williams-Mercedes) *
10th row Charles Leclerc (MON/Ferrari) * Max Verstappen (NED/Red Bull-Honda) *
* Start at rear of grid as penalty for engine changes
Follow the Russian F1 Grand Prix live from 10pm EST in our blog below!