One of the biggest problems I see with many AR-15 shooters is overloading a rifle with gadgets and accessories. The AR-15 is supposed to be a lightweight and agile rifle. Instead, I see rifles festooned with all manner of lights, lasers, backup sights, optics, sling mounting points and bipods. If you must hang both a light and a laser on your AR-15, consider one of these combination lasers and flashlights.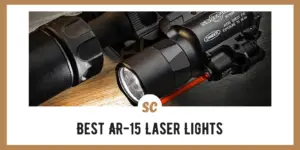 A flashlight certainly has uses on an AR-15 meant for close-quarters combat. In a home defense situation, a flashlight is arguably and advantageous. Adding a laser to your AR-15 can be advantageous as well under some circumstances. Combining these two devices makes sense where weight and space on a rifle rail are considerations.
If you want to mount both a light and a laser on your AR-15, this list of what I consider the best laser and light combinations can help. You should also understand the advantages and disadvantages of both weapon-mounted lights and laser sight devices.
What Should I Look for in a Laser Light Combo?
When shopping for a laser light combination to mount on your AR-15 rifle, you should consider several factors. The most important factor to consider is your personal preferences and expectations of the laser light combination you choose. No matter what features and options you choose, the laser light combination is not for you if you are unhappy with the functions and performance.
Ease of Use
I recommend that whatever accessory you add to your rifle, ease of use and maintenance are critical. The location of the switches and control for the light and the laser are a priority. Your lead hand should fall naturally on the laser and light controls. Make sure the controls are natural and intuitive to operate.
Construction and Durability
Most laser and light combinations are mounted near the muzzle of the AR-15. This mounting point exposes the laser light combo to damage and natural wear and tear. Whichever laser light combo you choose, its durability and construction are critical.
Visibility
Many people worry about the light their flashlight will cast. The number of lumens is a good measure of how bright the flashlight beam and how far the beam will cast. Certainly, you want to be able to see as far as necessary if the need arises.
What many shooters unfamiliar with lasers fail to recognize is the visibility of the laser and its range. Typically, weapon lasers come in two varieties, red and green. The debate over which color is easier to see is constant. Our opinion is that green lasers are easier to see, especially in bright sunlight. Whatever your choice, you should also consider the effective range of the laser.
---
Our Choices of Laser Light Combinations: Top 5 Picks
The list below represents my choices for the best laser light combination in the categories shown. There are hundreds of companies manufacturing laser light combinations. Still, many of these are manufactured overseas, and their quality control leaves a lot to be desired. Some of my choices are manufactured overseas as well. These companies have demonstrated a high level of customer service and quality control.
Best Overall Combination Laser Light – Streamlight 69240 TLR-4 Compact Rail Mounted Tactical Light with Laser Sight
Streamlight is well known for its flashlights and weapons lights. I have several Streamlight tactical lights mounted on both rifles and pistols. These are tough and reliable lights. Streamlight has a reputation for high quality and durability.
I like the Streamlight 69240 TLR-4 rail-mounted tactical light and laser combination. The unit is small and lightweight and generates an impressive 170 lumens for such a small light. In a close quarter combat situation, 125 lumens generates plenty of light for tight places and close work.
You also get all the features for which Streamlight is well known in this small package.
C4 LED technology
Ambidextrous momentary or steady on-off switch
The one-handed, snap-on mounting system is quick and easy to use
Mountable on sub-compact, compact, full-size pistols and on rail-equipped rifles.
Operable as a light only, laser only, or in combination mode
Uses a 3-volt CR2 lithium battery
Flashlight beam visible to 115 meters
Streamlight warranties their products for a lifetime except for lightbulbs and batteries, abuse, and accidental loss. Streamlight is the choice for many professional law enforcement and military operators. You can have the same quality of service and dependability on your rifle or handgun.
Last update on 2021-11-03 at 21:52 / Affiliate links / Images from Amazon Product Advertising API
The Ultimate Combination Laser Light – Steiner DBAL-RL Dual Beam Aiming Laser Rifle Light, Green Laser
For anyone who needs top-of-the-line professional equipment for their AR-15 platform, the Steiner DBA: -RL laser and light combination is a hands-down choice. Steiner's reputation in the shooting optics field also reflects in their lights and lasers. These Steiner military-grade lasers and lights will perform to almost every expectation.
Steiner has a full line of lasers and weapon lights, but the DBAL-RL is expressly used on rifle platforms. The features and options on this laser light combination reflect that design.
Push-button mode selection for quick and easy operation
Includes both a visible and an IR laser which is co-aligned
Uses two CR123a batteries
Adjustable for both windage and elevation
Fully programmable and dimmable operations
Remote switch capable
IR Illuminator for use with night vision equipment
White flashlight
400 lumens of white light illumination
A Steiner laser light combination may not be in the budget for everyone. There is no argument that Steiner equipment is expensive. However, if you need dependability, durability, and military-style features, a Steiner DBAL-RL laser and light combination is the ultimate choice.
Last update on 2021-11-04 at 01:53 / Affiliate links / Images from Amazon Product Advertising API
Runner-up Best Overall Laser Light Combination – TRUGLO Tru-Point Laser Sight and Flood Light Combo
Truglo is better known for its night sights than for its lasers and flashlights. However, the unique design of the Truglo Tru-point Laser and Flood Light combo deserves a place on my list. Most other laser and light combos look more like the light, or the laser was an afterthought. Not so the Truglow Tru-point laser light combo.
The laser is integrated completely into the flashlight housing. The laser shines through the clear lens on the front of the flashlight. This configuration dramatically reduces the size and weight of this flashlight laser combo. Truglow hasn't just repackaged the laser light combo. Truglo has provided a list of features that make this laser light popular with shooters.
CINC machined aluminum construction for durability and strength
Interchangeable backplates allow left or right-hand use
Comes complete with a quick detach level mount that fits wither Picatinny or Weaver-style mounts
Easily accessible windage and elevation adjustments
Available with either a red or green laser
A three-position power switch allows momentary-on, constant-on or laser only.
The remote switch is included in the package.
200-lumen flashlight
Truglo may not be as well known for their laser lights as they are for their night sights. These laser light combos deserve your consideration if you look for a combination light and laser for your pistol or rifle.
Last update on 2021-11-04 at 01:53 / Affiliate links / Images from Amazon Product Advertising API
Best Budget Combo Light and Laser – Feyachi LF-38 Red Laser Flashlight Combo
If you are looking for a budget version of a combo laser light for your pistol or rifle, the Feyachi LF-38 unit is a great solution.  The Feyachi LF-38 is an attractive and sleek design. However, visuals don't tell us much about performance. Feyachi has built a laser light combo at a budget price that performs like combo units costing much more.
Finding a laser light combo that packs these types of features at a price under $100 is worth a look. We can't say that the Feyachi laser light combo is as durable or as powerful as much more expensive laser light combos. But, for the price, you won't find it lacking in features or functionality.
200-lumen flashlight and a tactical level laser
Laser visible in daylight from 20 to 200 yards
Built-in rail mount keeps the profile low and the attachment secure
Modes toggle between flashlight only, laser light only, and combination use
CNC machined from aircraft-grade aluminum
Shockproof and weatherproof O-ring sealed internal parts.
Uses a single CR123 battery
Fully adjustable windage and elevation
When costs are a factor, you may think you can't ever afford a laser light combo. Check out this Feyachi LF-38 laser light combo unit, and you may think differently.
Last update on 2021-11-04 at 01:53 / Affiliate links / Images from Amazon Product Advertising API
My Choice for a Flashlight Laser Combo – SureFire X400 Ultra LED Handgun or Long Gun Weapon Light with Red Laser Sight
My choice for a combination laser light is the Surefire X400 Ultra LED Handgun or Long Gun weapon light. Several features make this my preference for a combination light and laser. First and foremost is the Surefire name. There is no doubt that Surefire builds some of the best and most prized flashlights on the market.
The X400 Ultra LED model is no exception. The features that Surefire includes in this flashlight and laser combo are extraordinary. If you need a flashlight and laser combo that is on par with many much more expensive military and law enforcement grade lights and lasers.
Nearly indestructible ultra-high-output LED light that delivers 600 lumens
Blinding white tactical-level light for professional use
TLR lens provides versatility with long-range and near range focusing
Highly visible red laser
Hard anodized aluminum body, tempered glass window for durability
O-ring and gasket seals for waterproof and shockproof operation
T-Slot mounting system attaches snuggly to rail mounts for rock-solid performance
Ambidextrous switching for both right and left-handed shooters
The multi-mode operation allows white light only, white light and laser, or laser.
Your needs and expectations may differ from mine. However, I have found the Surefire X400 to be one of the best value ratios to features on the market. The only reason that this flashlight laser combo didn't score as my overall winner is the price. The Surefire X400 is a bit costlier than other units on my list. However, my confidence in the durability and reliability of this flashlight laser combo is a big difference.
Last update on 2021-11-04 at 01:53 / Affiliate links / Images from Amazon Product Advertising API
---
The Downsides of Light and Laser Combo Units
Before you run out to your local retailer, there are some disadvantages to a combination of light and laser for your rifle or pistol. Understanding the downsides as well as the upsides is important to make a wise decision.
The Problem with Failure
Any mechanical device will fail. The failure usually happens at the worst possible time. When you bundle two critical parts of a weapon system into one unit, you face the chance that a failure in one will require replacing the entire unit. If either party fails, you usually face replacing the entire flashlight and laser unit.
Cost
Typically, combination units cost more than buying a laser and a flashlight. The engineering challenge of getting both technologies into one housing is considerable. Manufacturing a combo unit that is both robust and lightweight adds to the cost.
Laser Identification
Depending on a laser sighting device has its own set of problems. Suppose you are operating in a dark environment, and you employ your laser. In that case, you must remember that the laser light works both ways. If you can see the dot on a target downrange, you can almost bet your target can see the glow of the laser you are holding on your rifle. You can easily make yourself an inadvertent target.
Batteries
Some of these laser light combos use two batteries to power the light and laser separately. Some use a larger and more powerful single battery. In any case, batteries a prone to run down and can leave you both lightless and sightless if the batteries fail. Changing batteries on lights and lasers is not hard. In the dark, in a stressful situation, changing batteries can become almost impossible.
---
Finding the Right Light in the Dark
Keeping your rifle and pistol light and maneuverable is important. Adding a combination of light and laser can be one way to minimize the number of accessories attached to the rails of your gun. However, you must consider the downsides of adding any battery-operated device to your rifle and then depending on it. Be sure you make a wise decision, especially if your decision may impact your safety.