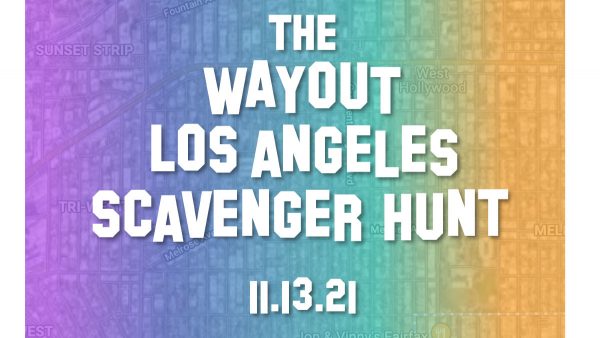 wayOUT LA is excited to host its first West Hollywood Scavenger hunt to benefit LGBTQ+ youth and the community! 100% of the money raised will go directly to our partner organization, Choosing Our Roots, in Anchorage, AK!
On November 13th starting at 1pm, teams can compete through the streets of West Hollywood to complete activities and gather points for incredible prizes, all while supporting local businesses. The event is intended to raise awareness of wayOUT and its partner organization, Choosing Our Roots, as well as build community and strengthen the connection to local businesses.
Teams can sign up at wayOUT.lgbt in teams of up to four and roam through the streets to complete tasks at some of our awesome partner businesses like:
Circus of Books
Out of the Closet
Connie & Ted's
Hi Tops
Kitchen 24
Hamburger Mary's
Artist Tree
V Wine Room
Trunks
And more! Gather points by taking photos, answering trivia questions, playing bingo, and other fun activities. The scavenger hunt will end with an epic after party at Rocco's featuring complimentary signature cocktails from Ilegal Mezcal, Old Smokey Whiskey, drinks from Bev, a signature mix from DJPK and surprise appearances. We have incredible prizes this year donated from some awesome local businesses like Fleur Du Mal, Book Soup, MarVista Entertainment, Future, V Wine Room, and others.
A bit more about the organizations
wayOUT empowers local organizations and entrepreneurs by advancing programs that support LGBTQ+ youth in places where society tells them it's not okay to be who they really are. This year, wayOUT LA is partnering with Choosing Our Roots, a lifesaving organization based in Anchorage, AK that assists queer youth and young adults by building supportive, long-term relationships with volunteer Host Home families and community members. In addition to providing safe homes and bringing together new families, COR coordinates with community partners to provide wrap-around services and build a network of support for its participants. As part of the scavenger hunt, participants will have the opportunity to learn more about the organization and how to support LGBTQ+ youth.