[ad_1]

Tropical Cyclone Tiffany has hit the Gulf of Carpentaria where it is forecast to redevelop and impact the eastern Northern Territory coast by tomorrow.
Category two tropical cyclone impacts are expected to lash the Northern Territory, according to the Bureau of Meteorology (BoM).
The impending arrival of the tropical cyclone has triggered a severe thunderstorm warning for northeast Arnhem Land.
As the cyclone centre crosses the coast, a storm tide is also expected to hit near the border between the Northern Territory and Queensland.
Gale force winds and heavy rainfall is forecast for the Groote Eylandt region in the Top End, which is likely to cause low-lying areas to flood and rivers to rise.
"In some locations, isolated locations, we're going to see in excess of 200mm possibly," Jude Scott from the BoM said.
The BoM said roads may be cut off and communities isolated.
"At this stage, we are sheltering in place. There are no plans to evacuate from any of the communities in the warning or watch localities," Superintendent Bradley Fox from Northern Territory Police said.
"Though they are if the weather event changes in any significant manner, based on the predictions from the BoM, we will make adjustments and we have plans in place to do so."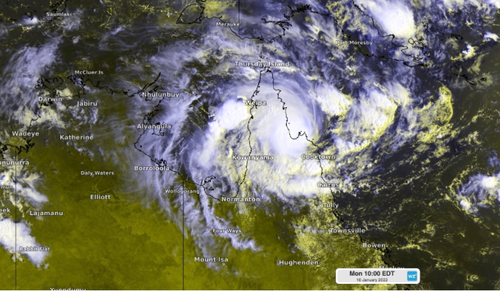 Tropical
Cyclone
Tiffany already made landfall in
Queensland
, hitting the Cape York peninsula with ferocious winds as it continues towards the Northern Territory.
Following warnings the cyclone was building in strength and approaching the state's east coast at 7 am this morning, the category two cyclone has engulfed much of the Cape York peninsula.
The cyclone hit Cape Melville just hours later.
The cyclone is expected to lose power as it travels west but will increase in severity, as it crosses the warm waters of the gulf.
"Tropical Cyclone Tiffany has made landfall over far north QLD and will soon be setting its sights on Groote Eylandt and the Northern Territory's Top End," Meteorologist Ben Domensino from Weatherzone said.
"Tiffany is the first tropical cyclone to make landfall on the Australian mainland so far this season."
The cyclone strengthened into a category two at 7am this morning, with windspeeds of 130 km/ hour recorded at the storm systems core.
Mr Domensino said Cyclone Tiffany could possibly increase to a high-end category two or low end category three cyclone near Groote Eylandt by Wednesday.
"It may even become the first severe tropical cyclone (category three or above) to cross Groote Eylandt in records dating back to 1969," Mr Domensino said.
Category three tropical cyclones are categorised by typical wind speeds above 118 km/ hour and destructive gusts of over 165 km/ hour.
"These very destructive winds are capable of bringing trees and power lines, causing roof and structural damage and leaving communities without power," Mr Domensino said.
The cyclone is predicted to weaken into a low-pressure system over the Northern Territory on Thursday and Friday, bringing torrential rains in its wake.
Queensland and Northern Territory bracing for floods
Rains accumulating to totals of 150 to 250 mm in far north Queensland and the Northern Territory are expected throughout the week.
Particularly impacted areas may see torrential rains exceeding 350 mm, with dangerous levels of rain continuing over the next five to six days.
The NT's northern inland is expected to be particularly affected, if the weakening cyclone Tiffany moves slowly across the region, dumping with it accumulated rainfall totals of over 500 mm.
"Which would be enough to cause prolonged and widespread flooding and may cut off roads and isolate communities for lengthy periods of time," Mr Domensino said.
Senior meteorologist Dean Narramore said the Bureau of Meteorology was closely monitoring the cyclone.
"Tropical cyclones can intensify very quickly, and shift direction, so we will be updating our warnings and advice to the community and our emergency services colleagues as this system progresses.
"We are expecting heavy rainfall and damaging winds as a result of this system, so regardless of whether it is a tropical low or a tropical cyclone, there is still an increased risk of flooding and some localised damage in the region," Mr Narramore said.
Several areas in Queensland have already been impacted, or have been warned to brace for severe flooding.
In Queensland, the Mary River has
flooded the town of Maryborough
on central Quensland's coast, 260 km north of Brisbane, prompting an emergency evacuation.
The Fraser Coast region, about 1500km south of the cyclone, saw floodwaters peak above 10m this weekend, amid the heaviest rainfall ever recorded.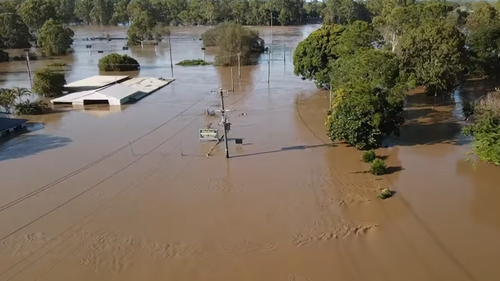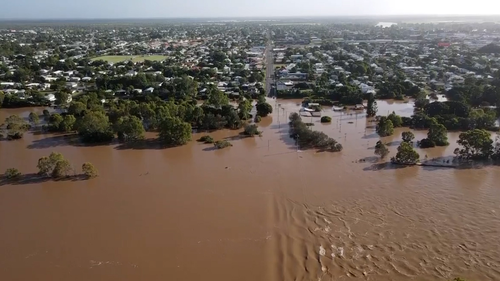 Residents were sent an emergency text message telling them to get to higher ground "immediately".
Mount Joseph, 200km north-west of Brisbane, recorded 451mm of rain, the highest daily total in more 100 years, Weatherzone, said.
Some areas got as much as five times their monthly average rain.
[ad_2]

Source link